2023 Vermont Referee Opportunities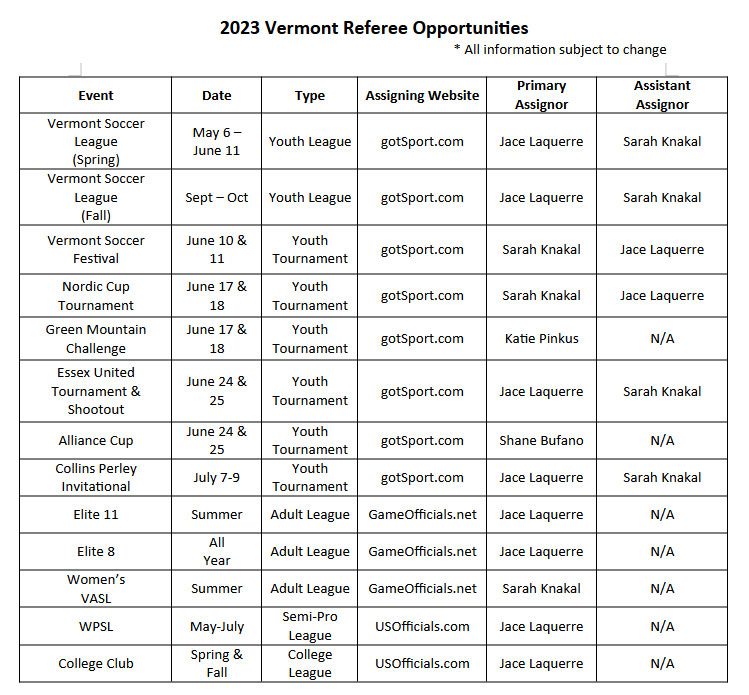 ---
Assignor Contact Information
Jace Laquerre: jace.laquerre@gmail.com | (802) 399-0994
Sarah Knakal: knakalsarah@gmail.com | (802) 598-3019
Katie Pinkus: drkatiepinkus@gmail.com | (732) 330-1661
*** Please Copy Both Assignors on All Emails and Texts ***
---
State Referee Administrator
Bill Edwards: stretchvt@gmail.com | (802) 370-6566
Mentor Coordinator
Whitney Widger: whitney.widger@gmail.com | (802) 881-4477
---
View 2022 Assignments and Administration Presentation
---
GotSport
If you have not made a GotSport account, you will need to make one. If you have already made one as a player to sign up for a team, follow the links below. Your assignor will email you the registration link. 
Here is a video tutorial to show you the sign-up process: https://www.loom.com/share/82636dece07c4aec907b95a02df9b584
ACCEPT/DECLINE GAMES – PRINT ROSTERS – REPORT GAMES >>> CLICK HERE FOR GOTSPORT REFEREE VIDEO TUTORIAL
---
GotSport Registration
Making an Account
Officials over 18 can simply make their own account.
Officials under 18 that have had their parents register them for something in GotSport will have to make their own username and password.
Instructions
Log into parent's account.
Go to Account > Family and click on the child.
On the child's account, go to Account.
Make them their own username/password and click save.
Log into their account using their own username and password, not the parents
Registration
You will be emailed a GotSport registration link from an assignor.
You must go through this link to be assigned. It will be different for each league or tournament.
---
Tax/Direct Deposits
All officials who have not sent a W-9 to the VSA should complete a W-9 and mail it to the Vermont Soccer Association at 528 Essex Rd, Suite 208, Willison, VT 05495. Do not email. 
You are labeled as an independent contractor. You will receive a 1099 if you make over $600 from a single paying party.
All officials should also mail a Direct Deposit Authorization Form to the Vermont Soccer Association.
---
Equipment
If you are a first-time referee, you should have already purchased or be in the process of ordering your starter kit.
You must wear the official USSF uniform for every game including shirt, shorts and socks.
Starter kits can be found here: https://officialsports.com/off-field-apparel/starter-kits/
Please order a Yellow uniform as your primary color. It is also recommended you purchase a secondary color (we suggest Red). Any other additional colors you wish to purchase can be your preference. 
CLICK HERE TO VIEW THE US SOCCER FEDERATION'S STANDARD OF DRESS AND APPEARANCE
---
Vermont Soccer League Referee Pay (2023)
Referee: $0.80/minute 
Assistant Referee: $0.50/minute
U10: $40
U12: $48
U14: $56 | AR: $35
U16: $64 | AR: $40
U19: $72 | AR: $45 
Most tournaments will pay Vermont Soccer League rates.
---