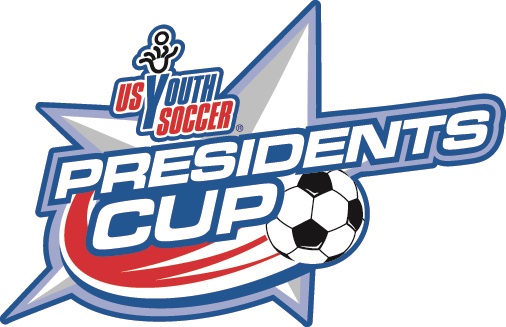 The US Youth Soccer Presidents Cup is a National Championship tournament designed for those teams looking to play against teams of similar abilities for a national championship title. The Presidents Cup:
Provides a progressive, competitive experience to the US Youth Soccer teams from the state to regional and national level
Gives players an additional opportunity to compete against teams from across the country at a high level for the joy and the challenge of the game
Provides the chance to experience a unique soccer event with camaraderie, community, and competition through sport.
HOW DO WE PARTICIPATE?
Representative teams that are registered with the Vermont Soccer Association will either compete or be nominated for a chance to represent Vermont at the regional competition in Charleston, WV June 14-18, 2019. Regional qualifiers will go on to the US Youth Soccer Presidents Cup National Championships which will be held in Murfreesboro, TN July 10-14, 2019.
*** This competition is not for teams that expect to advance in the US Youth Soccer National Championship Series. State Cup Champions from 2019 will not be eligible to participate.***
Tournament Details:
CUP FORMAT: Teams U12-U17/18 for both boys and girls may enter the competition.
APPLICATION FEE: The cost is $875 per team*. Age groups with more than one entry will play each other to determine a champion to advance to the Region I Championship in West Virginia.
TEAM ELIGIBILITY: Only a US Youth Soccer organization member can apply to compete in the Vermont and Region 1 Presidents Cup.
AGE GROUPS: Under 12, 13, 14, 15, 16, 17 both Boys and Girls.
ROSTERS: Rosters for teams participating in the Presidents Cup will not be frozen until the teams State Association freezes rosters for National Championship play or 72 hours before the first Presidents Cup game, whichever comes first.
GUEST PLAYERS: Guest players will NOT be allowed on any teams participating in the Region 1 Presidents Cup competition at any level.
FORFEIT FEES: Any team forfeiting a Regional or sub group game will be fined $500 per game and will pay the entire referee fee of the forfeited game or games.
APPLICATION: If your team is interested in registering and representing Vermont in the Region 1 Presidents Cup, please contact Meg Munson at admin@vermontsoccer.org
APPLICATION DEADLINE: The deadline to register is January 5, 2019 by 5pm. Teams will be notified by January 15, 2017 if there are other teams entered in their age group.
GAME AVAILABILITY: All accepted teams must make themselves available for ALL Presidents Cup games. Game schedules will be determined by the number of teams that register in the respective age groups.
FINES: Teams must recognize that the Region 1 Presidents Cup Teams that withdraw from the regional or national event 30 days before the event will be fined $1500. Teams that withdraw 5 days or less prior to the event will be fined $3000.
*Fees are estimated and will be updated after all applications are received. 
QUESTIONS:
Questions regarding the event can be directed to Meg Munson in the VSA office at admin@vermontsoccer.org.